I love to work with different types of crafting mediums, paper seems to be my specialty however, I do venture to other things as well. My blog is a place where I can track and share my talents. A place to take my inspirations and make them into creations
Friday, June 20, 2014
Cartridges used: pretty pennants, varsity letter and brick people SVG from scrappy dew doll builder expansion pack.
Saturday, June 14, 2014
Welcome to the Scrap Factory Brick People Blog Hop!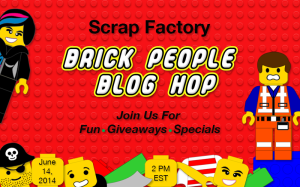 You're sure to find some inspiration from the amazing projects created by our Design Team and Guests.
I missed the hop due to a design failure however I have rebounded with this cute invite, after the movie I will put a picture in place of the invite between curtain.
Now, how about some blog hop prizes?
Scrap Factory is offering a package which includes the Scrap Factory Program, Brick People,Divas, Seasons, Sports, and Grad Expansion Packs. An $81.00 prize package.
ScrappyDew Creations is offering a $20 store certificate good on patterns files.
Susan of SusanBlueRobot is offering the winner their choice of a Scrap Factory Expansion Pack by SusanBlueRobot. Enter on her blog.
What you need to do to be eligible for these awesome prizes?
1. Leave some love on each of the blogs in the hop.
2. Become a follower of each of the blogs.
For an extra chance to win, stop by the ScrappyDewCreations Facebook page and click the "Like" button. You'll be glad you did! June 14th-15th there will be Games, Giveaways and awesome Coupon Codes!!
Winners will be selected on Tuesday, June 17th, 2014.
Your next stop on the hop is Monica. I hope you enjoyed your stop on the Brick People blog hop. Be sure to visit each blog, the team have amazing projects to share with you
http://tinkstablescraps.blogspot.com/2014/06/brick-people-blog-hop.html Angie
http://scrapalette.blogspot.com/2014/06/welcome-to-brick-people-blog-hop.html Paulette
http://dania-storiesinpictures.blogspot.com/2014/06/building-blocks-of-friendship.html Dania
http://www.susanbluerobot.com/2014/06/scrap-factorys-brick-people-blog-hop.html
Susan
http://www.simplysarahdesign.com/2014/06/brick-people-blog-hop-with-scrappydew.html Sarah
http://onceuponapapercreation.blogspot.com/2014/06/a-pirates-life-for-me.html Cheri
http://kreativeken.blogspot.com/2014/06/brick-people-blog-hop_13.html Ken
Monday, June 2, 2014
My son began a journey at Gustavus Adolphus College 4 years ago, he graduated June 1, 2014. I had to make a few decorations for a small celebration we gave him. Here are a few creation signifying the beginning and the end of this chapter. I am SO proud.